Alan met the stringent admission requirements of the Shanghai University of Traditional Chinese Medicine, which enabled him to study Acupressure (Tui-Na: Chinese Medical Massage), Acupuncture and Moxibustion, including Auricular Acupuncture; Cupping; and the practice of Medical Qi-Gong and Tai-Ji to advanced level.
Admission to this famous medical teaching university - which has links to the World Health Organisation - is limited to graduates of medical colleges and senior medical students only.
Successful applicants gain admission on a 'by invitation only' basis. Master Chee was delighted with Alan's success at being admitted to study at the university.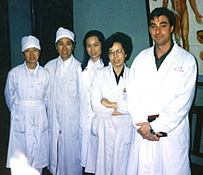 An especially important part of the instruction and training he received at the university involved Alan's participation in the Shanghai No 1 Peoples Hospital, where he had a patient list of approximately 200.
By attending the University and No 1 Peoples Hospital, Alan gained a deeper understanding of his master's explanations about, for instance, how the qi flows through the meridians.